Marayong Park Emu Farm
Marayong Park Emu Farm is situated in the beautiful Shoalhaven Shire on NSW's South Coast a leisurely two and half hours drive from Sydney, AUSTRALIA. See map
It is the home of the emushop.com and the famous
"AusGold" emu oil products

On the farm we have our chicks hatching from August to December.
| | |
| --- | --- |
| Feeding the emus | |
---

The farm tour is available by appointment only and is a real educational experience,
not only will you learn all about Emus but it is real hands on .

Feeding the Emus will "emuse" one and all, and when the chicks are there (August to December) you can actually hold them.

At the end of the tour you will know all about emus, not only what happens in the wild but also how and why they are farmed
Bookings are essential, a minimum charge of $150 applies or 15 Paying guests.
---
For more information call: (Australia) 02-44478505 or freecall 1800655363 fax 02-44478887
oversea callers ++61 244478505 fax ++61 244478887
See what there is to do at MARAYONG PARK- EMU FARM
---
email: emushop.com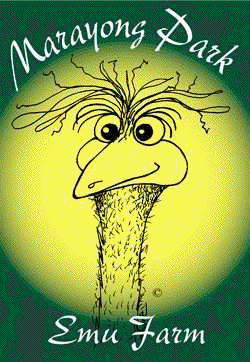 Other emu links:
http://www.amonline.net.au/birds/factsheets/emu.htm
http://australian-animals.net/emu.htm
http://www.nationalparks.nsw.gov.au/npws.nsf/Content/The+emu
http://animaldiversity.ummz.umich.edu/site/accounts/information/Dromaius_novaehollandiae.html
http://www.calm.wa.gov.au/plants_animals/bird_emu.html
http://www.lighthorse.org.au/military/hatfelt.htm